Used pallet collection is amongst the most environmentally friendly methods of reducing pallet/timber wastage. If your organisation has generated a large amount of unwanted wooden pallets with no collection arrangement, these can quickly become an inconvenience.
Managing used pallets can not only take up a significant amount of time but disposal can often be expensive. This is where PR Pallets can help! We are nationwide recovery specialists and are willing to collect your unwanted pallets, no matter your location. We even offer rebates for pallets that are of good condition!
Our Used Pallet Collection
In the UK, unwanted pallets are considered as waste, therefore, strict waste management legislation is applicable to used pallets. Our network of recovery specialists is able to collect used pallets from your location and return them to our depot where they can be inspected, repaired and returned to you when required.
Our used pallet collection service is a straightforward choice for organisations who no longer require their pallets; by allowing us to manage the entire collection process. The inconvenience of dealing with large amounts of unwanted pallets is completely removed, allowing you to focus on business as normal whilst we take care of the rest!
Since 2014 our used pallet collection service has successfully collected and repurposed over 350,000 pallets. On average, we carry out over 1500 used pallet collections a year… a number that is rapidly growing!
This is a significant number of pallets that could have otherwise been scrapped or disposed of but instead, will remain in the pallet chain for many years to come.
For environmental as well as compliance reasons, we aim to recycle and repurpose as many used pallets as possible through our used pallet collection service. You can be confident that where possible we will repair pallets and sell them on as used pallets, or if the pallet is beyond repair, sold on and used as wood chip.
Used pallets should not be burdensome to you, which is why PR Pallets aim to take the responsibility of handling them away from you. You can direct your much needed time and effort elsewhere whilst we manage the entire collection process for you – leaving us both to do what we do best!

The pallets you've provided us with will either be recycled or repurposed and will not contribute to timber wastage. We ensure that all parts of your unwanted pallets will be used again in the pallet chain, either as reconditioned pallets or for woodchip.
Our used pallet collection service operates on a national basis. If you require used pallet collection from multiple sites, we can arrange individual collections for all locations. We handle the logistics, sorting, recycling and repurposing of used pallets, and can even send you a collection analysis.
No longer will you have to set up multiple collection contracts, PR Pallets will simplify your used pallet collection and our approach sees one point of contact, ensuring management of pallet collection is straightforward and hassle-free.
How can Used Pallet Collection Benefit You?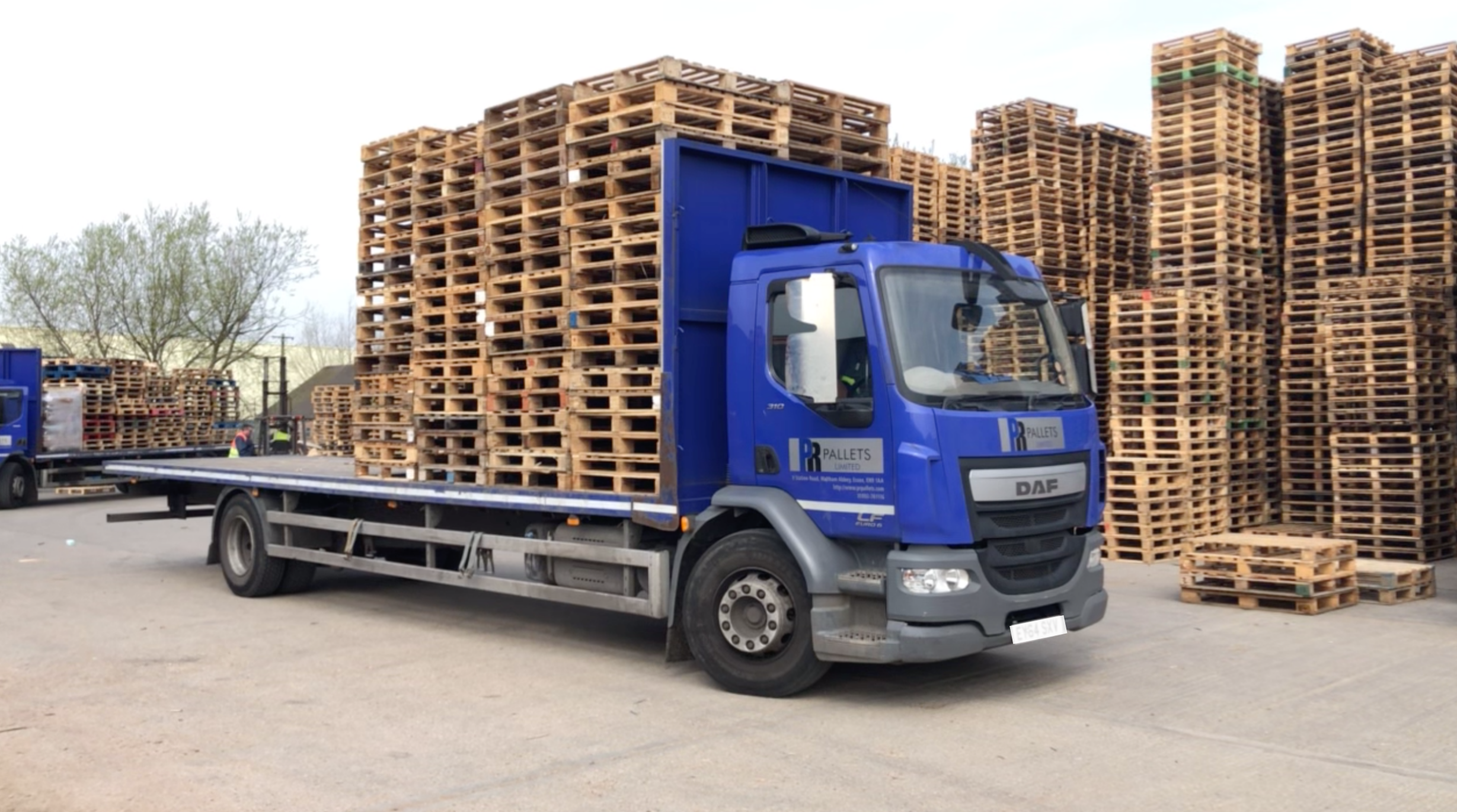 PR Pallets specialise in the construction and food sector, and with the price of timber steadily rising, new wooden pallet prices are also increasing. The recovery of pallets for reuse can help reduce pallet and packaging spend, as this process can be implemented with little effort, and returning a reusable pallet is considerably cheaper than buying new pallets.
Depending on the type of pallets we obtain as part of our used pallet collection service, collections could potentially be free, or in some cases, we may even be able to offer rebates. We do charge for scrap pallets, but if the stock is of a high-quality we are more than happy to pay for the pallets and give rebates directly to the customer.
We understand that eventually, all pallets will run their course. When this time comes, there are a number of different ways they can be recycled.
Sustainability is vital to our business values, which is why we operate a zero-waste policy and have efficient recycling practices in place which ensures that all parts of used pallets are used again in some way. In instances where a pallet is no longer repairable, we breakdown the components and use what we can as the material for woodchip.
For more information, give the team a call today on 01992 761 116.